ESCP Business School
Heubnerweg 8-10
14059 Berlin

Seminarsuche:
❱ https://escp.eu/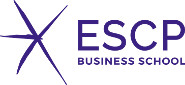 In-class, Online or Blended programme - Take your career to the next level
---
Francesco Venuti, Dean EMBA and GMP, ESCP Business School
Für Ingenieure:innen mit einem VDI nachrichten Stipendium
Forrmat: In-class, Online or Blended
Duration: 12 or 15 months (part-time)
Intakes: January or September
Language of instruction: English
Where you study: Berlin, London, Madrid, Paris, Turin, Online
The international ESCP General Management Programme (GMP), tailored to high-potential executives, equips you with all the cross-functional knowledge and managerial skills you need to ramp up your performance as a leader in world-class organisations.
The GMP is a standalone programme but also forms an integral part of the ESCP Executive MBA: the 9 core courses are common to both programmes.
The GMP is a highly customizable part-time programme, designed to help you to balance your studies with your work and your personal life.
You choose the location: attend classes on campuses across Europe and the Middle East, you can also choose to take the majority of courses online or mix online courses and in-class with our blended format.
FINANCIAL TIMES RANKING (2021)
#6 Worldwide
#2 for Career Progression Worldwide
Objectives
Build your core management skills
Grow your leadership and influence at an international scale
Appreciate and understand a group or company strategy
Create and implement an efficient action plan in line with company tactical ambitions
Benefits
Become an intercultural business leader in global frameworks
Impact with your decision-making and grow as a team manager
Broaden your perspectives and enhance your self-confidence
Share your experience with a highly diverse group - an invaluable asset in today's global business environment
"I first joined the GMP programme, which provided me with an exceptional experience, not only acquiring the knowledge of the core courses of an Executive MBA, but also providing me with the opportunity of discovering new skills and new potential to grow in my professional career."

Maria MERRY DEL VAL, Director at Royal Bank of Scotland, GMP 2016 – EMBA 2018, Spanish
Your first step tothe Executive MBA
You have the option to transition seamlessly from the GMP to the Executive MBA programme, which is ranked top 10 worldwide by Financial Times. Once accepted into the EMBA, you will only pay the balance of tuition fees due (see Fees & Financing).
You will be able to carry over the credits you earned in the GMP. Then you are on track to complete the 10 electives, 5 international seminars and International Consulting Project. If you follow this route you can expect to finish your EMBA within 30 months.
"The GMP programme has helped me to both deepen and broaden my leadership skills, and focus on the holistic picture in a modern corporate environment. Additionally, I have developed tangible skills by applying frameworks, new concepts and theories I have learned on the programme."

Jatinder SINGH PAL DHAMEEJA, Head of Global Design and Implementation (IT Security) at British Telecom PLC, GMP 2014 – EMBA 2016, British
71% of GMP participants go on to join the Executive MBA
Contact:
Christoff KOTZÉ, Berlin Campus Admissions
Schedule a call: +49 (0)30 32 007 199